Diaspora-Solidarity Volunteer Program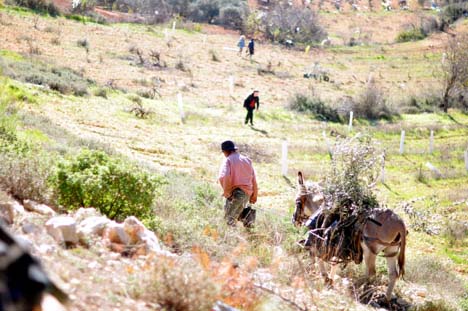 In order to engage the Palestinian Diaspora and our friends in Solidarity, the Dalia Association in partnership with To Be There established the Diaspora-Solidarity Volunteer Program. Eligible volunteers will include all Diaspora Palestinians and friends of Palestine with various age and professional backgrounds.
The main component of this program focuses on volunteering and community service, as well as learning about the realities on the ground in Palestine.
The program will comprise 10 days where the participants will learn about the political reality for Palestinians living under Occupation since 1948. In addition, volunteer work days will be organized in various local communities and villages.

Background
Dalia Association, Palestine's only community foundation, was established to promote and facilitate community-controlled development through community philanthropy. In community philanthropy, everyone is a giver; a giver of their time, expertise, and/or material resources. There are no donors or beneficiaries. Dalia Association raises awareness of the value of local resources and the abundance of resources available in Palestinian communities in the country as well as in the Diaspora.

The key is linking resources available globally with the priorities identified locally. Development is a human right, and Dalia Association firmly believes that Palestinian communities have a right to control their resources and direct their development. We also believe that the Palestinian Diaspora and friends are anxious to support self-determination in Palestine but lack awareness and mechanisms to facilitate their engagement.

Dalia Association and To Be There share an interest in engaging the Palestinian Diaspora and friends of Palestine, especially the youth, to volunteer in Palestine and witness the reality of this land under Occupation.

The Program: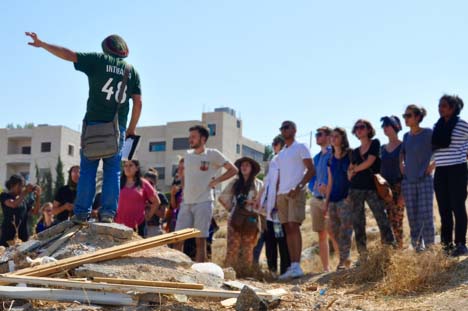 Day One-July 1st: All day, Arrival and check into hotel. Evening: Introduction to organizers, participants and schedule.
Day Two-July 2nd: A tour through Bethlehem's Ancient and recent history, exposing the current reality of Israeli control, explaining settlements, land theft, walls, checkpoints, gates and Israeli settler roads. Evening discussion on Palestinians' Identity.

Day Three-July 3rd: Morning: Visit different sites in the old city of Jerusalem, afternoon, exposing Israeli measures against Palestinians in Jerusalem and the surrounding towns, explaining the difference in treatment of local Palestinians vis-à-vis Jewish Israeli settlers within and around Jerusalem. Evening discussion on Palestine within different Israeli platforms including Education and Politics.

Day Four-July 4th: Volunteer day, work with a local Palestinian family on their land.

Day Five-July 5th: Palestinians in Israel; Visit the city of Nazareth, exposing current realities and struggles of Palestinians in Israel, visit destroyed Palestinians communities in the north and explaining different measures used by the state to eliminate Palestinians' identity through the Israeli civil regime.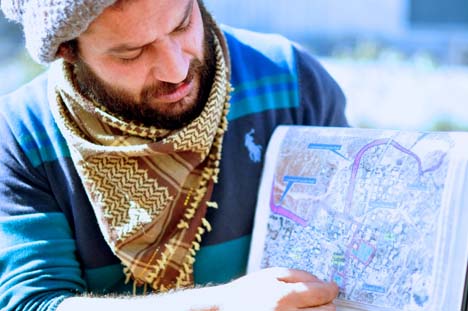 Day Six-July 6th: visit Dalia Association and other relevant human rights organizations, and Yaser Arafat Museum. Tentative visit to Nabi Saleh or Bilin.

Day Seven-July 7th: Visit to the City of Hebron, expose the Impact of Israeli control on the 2nd oldest city in Palestine. Visit Al Ibrahimi Mosque and learn about the daily struggles of local families there. Evening discussion on Palestine related campaigning and the concept of Returning to Palestine in practice.

Day Eight-July 8th: Visit Jericho and the Jordan Valley, learn about the oldest city in the world, its history and current reality, visit Palestinians surviving through Israeli policies in the Jordan valley including land theft and restricting access to water.

Day Nine-July 9th: Volunteer day, work with a local Palestinian family on their land.

Day Ten-July 10th: Morning, open session on advocacy and campaigning for justice in Palestine, Free afternoon, evening music and farewell event.


When you volunteer, you will contribute and support Palestinian community controlled development

Why Volunteer?
The rationale is that by engaging the Diaspora and friends to serve and volunteer in specified communities:

We are mobilizing Palestinian resources. Diaspora and friends' expertise will be matched with community needs and priorities to implement a particular community priority/project as well as facilitate a transfer of knowledge and skills from the Diaspora to the communities and vice versa.
Engaged Diaspora Palestinians and friends in solidarity are more likely to support and invest in Palestinian communities over the long term, thus mobilizing Palestinian resources. By volunteering in a community through support from the Dalia Association, the Diaspora Palestinian and friends will understand the importance of strengthening civil society and supporting community controlled development.
Engaged Diaspora Palestinians and friends are more likely to organize in their resident countries to support community-controlled development in Palestine.

Do you want to stay longer? The Dalia Association can place you in a community, village, or organization where you may serve for the remaining time of your visit.

For those participants interested in extending their visit beyond the initial 10-day tour, placements will be based on the backgrounds of the Diaspora/friends and needs of the communities. Participants of this program will be placed in a community where they will serve in a specified capacity based on the identified needs and priorities of the community.

Volunteer placements based on the volunteer's skills and knowledge will promote a transfer of knowledge to the community in which the volunteer is serving. Through serving in a particular community, the volunteer will learn about the impact of donor dependence and the destruction it has on Palestinian communities and civil society. Under the guidance of the Dalia Association, the volunteer will explore sustainable options to mobilize Palestinian resources and invest in Palestinian communities to support their social and economic development. Communications will be maintained with the volunteers after the program to encourage that they translate lessons learned on the importance of durable community controlled development to their fellow Palestinians and friends living abroad. As such, a network of Diaspora/Solidarity will be built to support local community based development in Palestine.

Donate now to support the participation of others. Proceeds will go to establish a diaspora R2R (Right to Return) fund at the Dalia Association to provide scholarships to join this program.

If you are interested contact: Aisha Mansour, Executive Director, Dalia Association at aisham@dalia.ps.




Endorsed by Al: Awda, The Palestine Right to Return Coalition.