December 2007
Palestinians are the largest per capita recipients of international aid in the world, but they have virtually no control over how resources are used on their behalf. "With over 10 million Palestinians in the world, and millions of international friends, it is time for Palestinians to mobilize their own resources and use them for Palestinian-led social change and sustainable development," announced the board of directors of Dalia Association, a new Palestinian community foundation based in Jerusalem.
Dalia Association was founded by members of the Palestinian community from the West Bank, including East Jerusalem, the Gaza Strip, Israel, and the Diaspora. "We are diverse in terms of religion, gender, age, and political views, but we share a commitment to mobilizing, investing, and distributing resources according to local Palestinian priorities using community-based decision-making. We believe that by building new traditions of philanthropy and volunteerism, we can put Palestinians back in the driver's seat of their own social change and sustainable development agenda."
Dalia Association links people who have resources—money, expertise, ideas and other resources— with community activists who need those resources to serve their communities. It provides funding and other forms of support for hopeful, inspirational, and sustainable civil society initiatives, including community efforts that need only a small grant to supplement their local resources. A permanent endowment will be built over time to ensure a stable income for current and future generations. In the long-term, Dalia Association aims to reduce Palestinian civil society's dependence on international aid.
"Dalia" means "grapevine" in Arabic. The board of directors explained, "Nearly every Palestinian house has a Dalia plant, and we all know that if you take care of it, a grapevine will feed you, shelter you, and provide beauty for generations. This is exactly what our community foundation will do for us. It is a mechanism for us to become our own donors, investors and decision-makers." Dalia Association was legally registered as a non-profit organization in Belgium in January 2007. It is a member of the Association of International Development Agencies in Jerusalem (AIDA) and Grantmakers without Borders in Boston, Massachusetts. For more information, visit Dalia Association at www.Dalia.ps.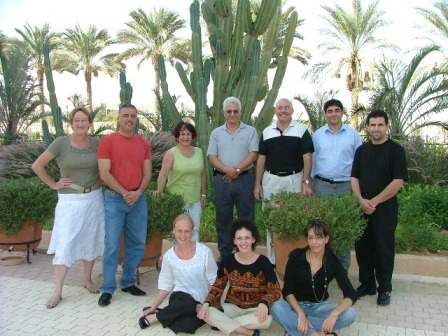 Participants in the founding retreat in Jericho. Top row from right: Jamal Najib, Basel Mansour, Khalil Nijim, Mohammad Shaheen, Ghada Rabah, Faisal Awartani, Trees Zbidat-Kosterman. Bottom row: Juliette Abu-Iyun, Nora Lester Murad.