November-December 2016

23rd of January, 2017
2017: Reaping the fruits of 2016
Dear Friends of Dalia,
We are happy to share with you our agenda for this year. It will be a year of innovation and action for our community programs, where preparatory work of 2016 is bearing its fruit in 2017.
Since I joined Dalia last year, we have been working relentlessly to involve more communities and active civil society groups in our community programs to work jointly on issues that touch their real needs, reviving the sense of belonging and pride in our own abilities to control our own development.
Under the community programs: villages, women groups and youth groups will be implementing projects that they themselves identified and selected to support their communities and respond to their specific needs. They will also be experimenting with best possible solutions and prototyping them to be replicated in similar contexts.
In the Village Decides program, Tuqu' town started implementing two projects led by the youth entrepreneurs group and Al Ghad group for people with disabilities, where they are tackling issues related to youth involvement and representation in the cultural scene of Tuqu'; connecting with other communities; raising awareness on environment and cultural heritage; capacity building and empowerment of youth to decide on their future careers; involving disabled people in the community as productive members of society; supporting families of disabled people and generating income for Al Ghad group to provide more services and support to disabled people.
The town of Tuqu' also started the village fund, where community members are able to have a say in the development of their community through contributing to the fund and deciding collectively on issues that the fund should address, creating a transparent environment of collective decision making and community implementation of needed interventions.
In the Women Supporting Women program, the recently launched program in the South of Hebron will support women to identify and select initiatives serving their communities. Two projects will be implemented in the area based on an open voting process where the women will decide which projects to be implemented, using locally available resources.
There will also be a continuous follow up with the five women funds in the districts of Jenin, Salfit, Tulkarem, Ramallah and Jericho. Field visits to successful and innovative initiatives will be organized and joint meetings are also planned to encourage collaboration and knowledge exchange among the different funds.
In the IBDA' youth program that we launched in 2016, the youth groups in communities around Ramallah, Jordan Valley, Jerusalem and Gaza, will start working towards building durable projects, that not only provide income generation for youth groups, but also strengthen the role of youth as active citizens and their involvement in setting the development agenda in their own communities, through mobilizing local resources; be it capital assets and/or human resources.
Within this program, we are also piloting a project with students at the Orthodox School of Bethany in Al 'Eizarya, encouraging students to take on the role as active citizens to serve their communities, to address specific issues that they find crucial in their context. This year the school will be voting for the best two projects idea identified by a group of students, and they will be implementing them with the support and facilitation provided by the Dalia team.
We are very excited to collaborate with the Global Ecovillage Network and other potential partners, where we will be experimenting with and prototyping local solutions through adopting a holistic approach to development, tackling the local economy, ecology, cultural and social dimensions.
Linking local resources and expertise will also be our focus for this year, where field visits and convening will be organized to share knowledge, motivate entrepreneurs, encourage giving and volunteering, i.e. community philanthropy, to contribute towards greater impact to real durable development.
We welcome anyone interested in supporting our work and approach to join our family, and share their innovative ideas, resources and energy to work together for positive social change!
Just drop us an email at: [email protected]. We will be happy to hear from you!
Let the action begin!
Lina Isma'il
Community Programs Officer
Twitter Q&A: #ShiftThePower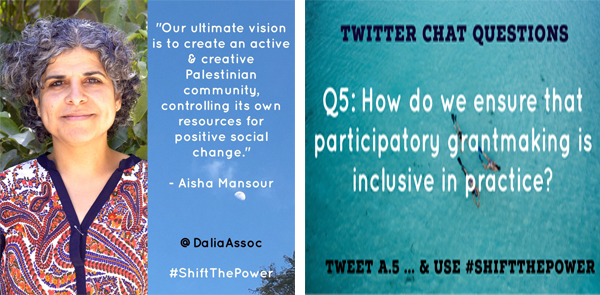 Dalia Association, along with Mama Cash and the Global Fund for Community Philanthropy (GFCF) and other individuals, led a Twitter question and answer (Q&A) on the 23rd of November, with the hashtag #ShiftThePower. The chat included questions and discussion over the definition of participatory grant making and successful examples, addressing power dynamics in funding, and the inclusion of the community in deciding its own durable development .To learn more about this chat you can click on the following link: https://storify.com/DaliaAssoc/who-calls-the-shots-shiftthepower
Launching the Jerusalem Fund
Team Dalia met with several community based organizations and grassroots groups in Jerusalem to launch the Jerusalem fund, in order to mobilize local resources to implement community priorities.
We would like to thank all donors who contributed to the fund during our crowdfunding campaign last Ramadan.
Global Summit on Community Philanthropy

Team Dalia attended the global summit on community philanthropy in Johannesburg, South Africa on the 1st and 2nd of December. We learned a lot from other's experiences working closely with their communities. We led two sessions in this conference, the first day included a "speed networking" session, where participants sat two by two facing each other. Each person had 2.5 minutes to introduce him/herself and his or her organizations work in participatory grant making (5 minutes in total). After hearing a bell ring, one of the participants switches to the next person, and they repeat the same process all over again, until all the participants meet each other. The participants in this session were satisfied, and thought it a useful method and an efficient way to network, and exchange ideas. The next day, with the Foundations for Peace, in which we are members, we discussed along with other members, the true meaning of peace; that it can only be achieved through social justice, and the empowering of indigenous people. In addition, we participated in the poster session, presenting two posters, one on Dalia's work in general, and the second on our research on the best practices of women's funds around the world.
At the end of the conference, Aisha contributed a blog post in the Alliance Magazine blog:
Shifting the power? An alternative to 'big aid' in community philanthropy
While new to the community philanthropy world, I have been an advocate for change in the international aid system for nearly 10 years. After living in one of the highest recipient per capita countries of the international aid system, I appreciated the damage that formal aid can reap on a country and its civil society.
After over 20 years of international aid dumped into Palestine, we have witnessed a bloated and distorted economy, with a growing gap between the small clan of elites and the growing population of poor, and a weakened civil society unable to mobilize its own resources for its own development waiting for the next handout or project.
In most cases, these handouts and projects provide band-aid relief without addressing the core issues and priorities of the local community. In my discussions with fellow community philanthropists from the South, most agree that an alternative is greatly needed to ensure durable development in our countries.
Community philanthropy is the alternative! The community philanthropy framework asserts that every member of civil society is a giver. In this paradigm, there are no donors and beneficiaries.
Rather, we are one community with different resources and we mobilize our resources to support our community priorities. If we – community philanthropy activists and professionals – truly believe in this construction, then why are we spending our valuable time at the summit discussing how to influence and change the international aid system.
Do we really believe that the big AID actors from USAID to DFID will change their practices and contribute their resources to indigenous communities on the ground? Is it even feasible for a bureaucrat in Washington DC to manage a portfolio of small donations distributed to local communities all over the world?!
Rather, perhaps we need to focus our efforts on creating an alternative; developing our community philanthropy system. Here are some thoughts:
Defining community philanthropy
Community philanthropy is still not widely understood. Our efforts should focus on better defining the meaning of community philanthropy. Community philanthropy can mean many things in various contexts. However, the principles are similar across the spectrum. Those who are on the outside do not understand. Perhaps our role should be to better communicate what community philanthropy is about so that we can increase our family of community philanthropists while ensuring clarity amongst ourselves.

Measuring the real value
We continue to preach small money with big impact. But it is not just about the money! A focus on money undermines the true value that community philanthropy brings to the table. Ambassador James Joseph commented that we place too much emphasis on financial resources, whereas we should be focusing more on the non-financial resources.In community philanthropy, it is the community resources combined that brings durable development. We must better value our community resources. If we are able to measure community philanthropy, we will surely learn that there is nothing small in value in what we do to ensure positive impact in our communities.

Developing a mechanism for the Global South
There is too much focus on obtaining the financial resources of the Global North. But I am not sure if the big funders from the Global North are able or willing to contribute towards our community controlled development, where we set the agenda, not them. Are the big AID donors ready to shift the power? One of the participants asserted that we do have resources in the Global South. The issue is developing a mechanism to better mobilize these resources to serve the priorities of our communities. Perhaps at a future meeting, the participants can focus on creating such a mechanism where we expand community philanthropy throughout the Global South and ensure strong mechanisms to mobilize and disseminate resources as needed by our communities.
The Global Summit provided a much needed forum for community philanthropy activists and professionals. The discussions started must be continued in other forums and work groups.
Rather than focus on influencing the power structures that have caused much of the harm in our countries, we must be more creative and collaborate to develop an innovative solution.
The solution is community philanthropy.
Dukkan at Taline's Gallery

The Dalia Association took part in Taline's Gallery for Palestinian Fashion and unique household items. Ms. Taline invited us to accept donations from visitors of the gallery, for our second hand shop initiative Dukkan. Dukkan is our effort to make effective use of the resources available in our country, and to decrease waste going to landfills, thus decreasing pollution. The shop also increases access of needed goods at a budget price, so that everyone in our community can purchase what they need. This generates a bit of income for the Dalia Association, and it increases the number of our community-controlled grants, so that more people in our community can benefit from these grants, therefore decreasing our dependence on external conditional aid.
Stay tuned, our next Dukkan initiative will take place in Beit Sahour at El Beir, Arts and Seeds: a showroom for varied works of art, handcrafts, and specialty food and seed items, located in Beit Sahour's old city.
Happy New Year
Team Dalia wishes you a wonderful 2017, filled with joy, happiness, volunteerism and community philanthropy!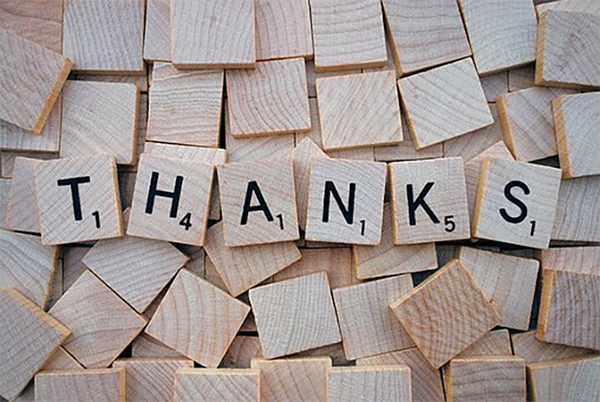 We would like to thank every single person who contributed to Dalia with their resources: skills, items, money, and more. You are all setting the path to Palestinian self-determination!
Volunteers: Mohammad Rimawi; Hafez Omar; Sami Alul, Asil Abu Assba; Amar Rasul; Nadia Hassan; Raed Tharf; Mahmoud Kittaneh; Shadi Abdel Hadi; Nader Dagher; Abdel Rahman Karajah; Michael Blosser; Michael; Muna Shtayya; Max Schindler; Alia Naser Aldin; Yanal Hammouda; Haifa Asaad, Basma Abu Sway; Iyad Joudeh; Naila Ayesh; Yara Abdel Hamid; Fida Mousa; Nora Murad; Rima Ajrami, Mohaned Berekdar; Rami Hinawi; Salwa Mohammed; Maha Mikhail; Rula Muzaffar; Hekmat Bessiso; Arda Shamshoum; Fida Touma; Saed Dagher; Jassi Murad; Ahmed Zaghmouri; Sanah Yassin; Faris Amin; Amro Hourani; Yara Yousef; Andro Faster; Riad Bahhur; Fawaz Maghari; Ghadeer Dajani; Nadine Zaqout; Suhair Ahmad; Alaa Anwar; Ramzi Sansur.
Individual Donors: Mawya Shocair; Jennifer Lentfer; Pauline Solomon; Aisha Mansour; Susan Koppelman; Ghasan Abdallah; Rasha Tayeh; Josie Shields-Stromsness; Nawal El Khalili; Layla Kaiksow; Sami Alalul; Michael Madormo; Wisam Wazani; Rima Qashoa; Munia Hawa; Don Katz; Rebecca Krantz; Karen Pittelman; Richard Lockwood; Adriana Ponce; Fran Zell; John Barker; Nadim Hasan; Nora Murad; Linda Sansur; Siham Rashid; Nora Sullivan; Yousra Alshorafa; Osama Kaddourah; Rasha Sansur; Rabi Tanimu; Lina Isma'il; Ahlam Samara; Catherine Herrold; Ben Debney; Micaela Sahhar; Tareq Alawlaqi; Megan Marzec; Barrett Smith; Marina Mokhtar; Khemal Abidin; Hana Sahar; Hassaan Furqan Khan; Maliha Sheikh; Ghassan Othman; Adam Odeh; Tanya Shami; Loolu Rafeeq; Elsherif Mahmoud; Judith Cha; Muhammad Ali Javed; Katie Conlon; Maha Sansur; Ahmed Bassal; Katherine Dodds; May Ali; Stacy Quinones; Nina Adel; Mamun Rashid; Xenja Nessi; Rubaina Azhar; Ramzi Sansur; Joseph Berman; Andrew Karney; Farzana Gardee; Edward E. Thompson; Kristin Stoneking; E. Wender; M. Onorato.
Dukkan Donors: Al Maysam Homeware; Khalil Al Sakakini Cultural Center; Designs by Taline; Mariam Hijawi; Nora Murad; Rasha Sansur; Maha Sansur; Lorraine Sansur; Reem Khalil; Arda Shamshoum; Ahlam Samarah; Fida Touma; Aisha Mansour; Basma Abu Sway; Jassi Murad; Shurouq Asad; Alia Naser Aldin; Khalid Jubran; Yara Abu Yousef; Melia Tannous; Nadine Mazawi; Shirabi Yamda; Will Harris; Rima Tarazi; Kareen Man; Radya; Nabil Gazawi; Rene Bahu; Amal Adeeb; Sama Anfous; Nader Zeineh; Sareena Anfous; John Bandak; Rima Qashou'.