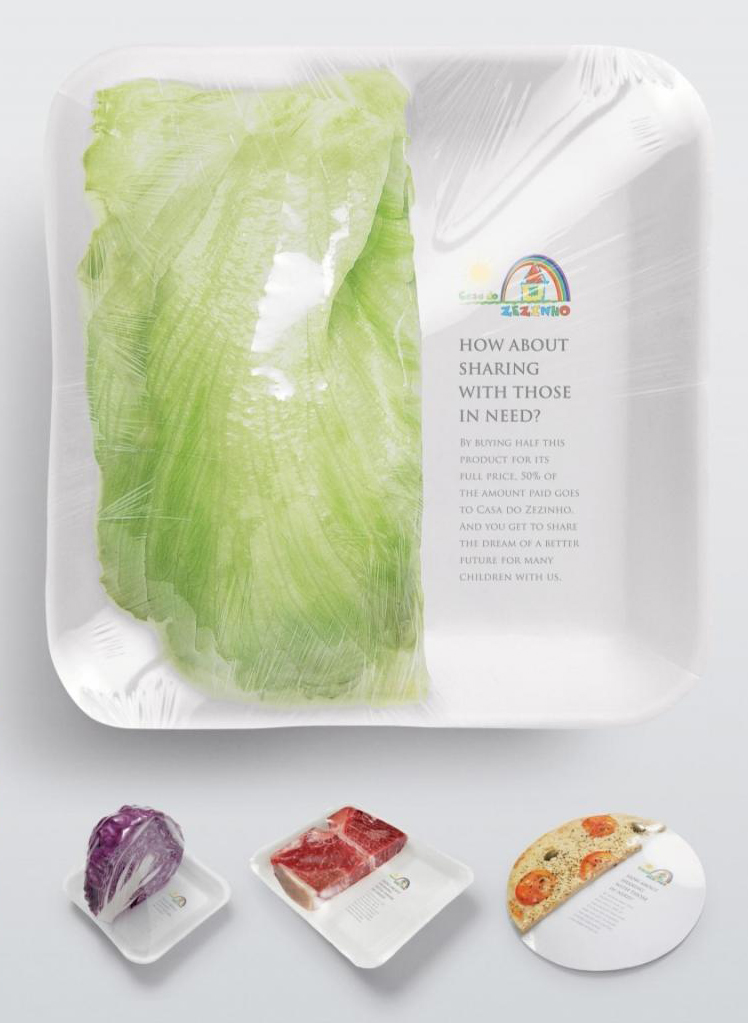 Food for Thought
What impression did you get when looking at these unique pictures?
These photos come from an award winning campaign called "Half for Happiness," which originates in Brazil. The purpose of this campaign is to raise financial support for people living in low-income areas in Brazil, where malnutrition is acute. What makes this campaign stand out is the way it both addresses the issue through fundraising and increases public awareness and engagement.
This initiative was started by Casa do Zezinho, a Brazilian NGO that focuses on low-income areas suffering from malnutrition. They came up with a creative idea of partnering with supermarket chains to fundraise to help these communities. Customers at participating supermarkets were given the opportunity to buy half-size fresh food products at full price, with half of  the proceeds donated to Casa do Zezinho. Supermarkets were responsible for providing food, collaborating on timing,  managing quality, and arranging transportation and storage throughout the process. As the pictures illustrate, food items were cut in half, packaged with the help of children and displayed on supermarket shelves without any other communication reinforcement. At the end of each campaign cycle, donations were recorded and delivered to Casa do Zezinho.
Issue Awareness
This campaign was a huge success.  Almost 100 half items were sold everyday and ended up bringing happiness to the people supported by Casa do Zezinho, along with attention to issues surrounding child malnutrition. Through this innovative example of philanthropy, we can see the human right to adequate food as a fundamental step towards health, development and sustainability.
Child malnutrition is responsible for more than one third of all deaths of children under 5 years old around the globe, claiming the lives of nearly 3.5 million children annually. This example shows how we can reduce the number of people living in hunger by sharing half of our happiness.
Through this idea of "half food," Casa do Zezinho has succeeding in making a big impact by developing innovative partnerships and engaging the public on this critical issue. You can view the promotional video for this campaign at
http://youtu.be/x75AXGzVzZo
.
Imagine how you can be creative to help solve problems in your communities!